Here's an idea...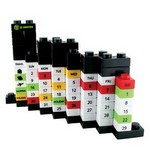 Made By Humans Perpetual Puzzle Calendar
Puzzle perpetual calendar. This fun desktop calendar is the grown up version of Legos. Instructions for seven different examples of how you can put it together are included. ABS plastic. 4 3/4" W x 1...
$13.95 - $14.65
Promotional Products with Zing
What is Zing? Creative marketers know what Zing is. It's that pop, pow, pizzazz stand-out-in-a-crowd factor that gives your brand promotional visibility.
Next Level Promotions makes it easy to capture the Zing that makes your brand pop. We have over 750,000 zingers to choose from. Promotional products that are customized, embroidered, imprinted and branded with your marketing goals in mind. Products and clothing for every budget, size and quantity.
As promotional products experts with over 20 years experience, we work with clients ranging from small start-ups to Fortune 100 companies. But, more than that, we're problem solvers and solution providers. Making you look good is why we are here.
Not only do we make you look good, we're also fun, creative and easy to work with. We are flat out and "all-in" with providing you with unexpectedly exceptional customer service.
You've found the right place if you're looking for promotional products with Zing.
Welcome to Next Level Promotions, where Promotional Zing Makes Your Brand POP!
Next Level Promotions LLC is proud to introduce our new partner in corporate performance apparel.
CRAFT Sportswear
Authentic performance apparel since 1977.
Functional sportswear engineered to perform.
Click image to view the 2016 Corporate Collection

Need a quick idea? Take a peek at our Idea Generator showrooms